About UK
Comprising four countries, England, Northern Ireland, Scotland, and Wales, The United Kingdom is one of the best study destinations in the world with around 5,00,000 international students enrolling each year. UK's educational institutions consistently do well in world rankings.
For an instant, the University of Oxford, University of Cambridge, UCL, Imperial College London, and 80 more UK universities have been ranked among the best by QS ranking agency this year. With the new immigration policy and introduction of 2-year post-study work rights, the UK is again becoming popular among Indian students.
Popular Cities in UK
London
Manchester
Birmingham
Edinburg
Reach Us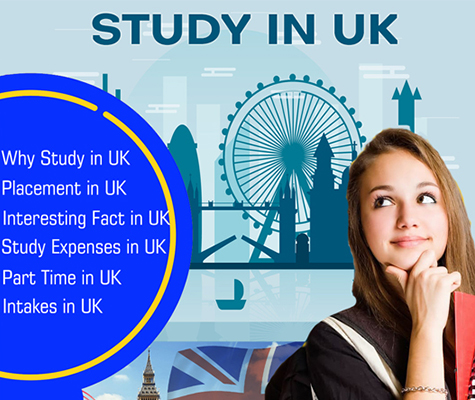 World-Class universities and colleges, internationally recognized degrees and diplomas, and 2-year post-study work rights make the UK ideal for students who want to take their careers to new heights. British institutions not only emphasize skill development, knowledge, and critical thinking but also encourage learners to be creative and independent in their lives. While studying in the UK, on the one hand, students can experience the richness of its culture and diversity, and on the other, they can improve their English language skills to the finest.
Short and Flexible Choice
Health benefits for students
The United Kingdom (UK) is reputed for its excellent quality of education, interactive teaching methodology, top ranking universities and great student satisfaction. Universities in the UK consistently rank in the world university rankings such as the QS World Rankings, Times Higher Education Ranking, and Academic Ranking of World Universities. Further, degrees earned from the country are globally recognised and preferred by employers all over the world.
Below are the eligibility criteria to study in UK:
Undergraduate Programs
3 years
Graduate Programs
1/2 yrs with internship
Postgraduate Programs
1/2 yrs with internship / placement courses
Employment
Opportunity in UK?
Student work rights
Almost every International Student wants to do a part-time job while studying. Due to day to day expenses, it has become necessary for students to work along with their studies. During the part-time job, students learn many things like Time Management, Work culture, etc. Students can find part-time jobs like Payroll Administrator, Part Time Advisor, Faculties Support and Care Assistant, etc.
Some international students pursuing degree programs from recognized educational institutes may work part-time in the UK. However, they may have to comply with the government and institute specific conditions. Tier 4 students in the UK may.
Work for 20 hours per week if they are pursuing a degree level course
Work for 10 hours per week if they enrolled in a full-time course below degree level sponsored by a Higher Education Provider
Student aged between 18 and 20 it is £5.90 per hour
Student in the age bracket 21 – 24 it is £7.83 per hour
Students aged 25 and over it is £7.83 per hour